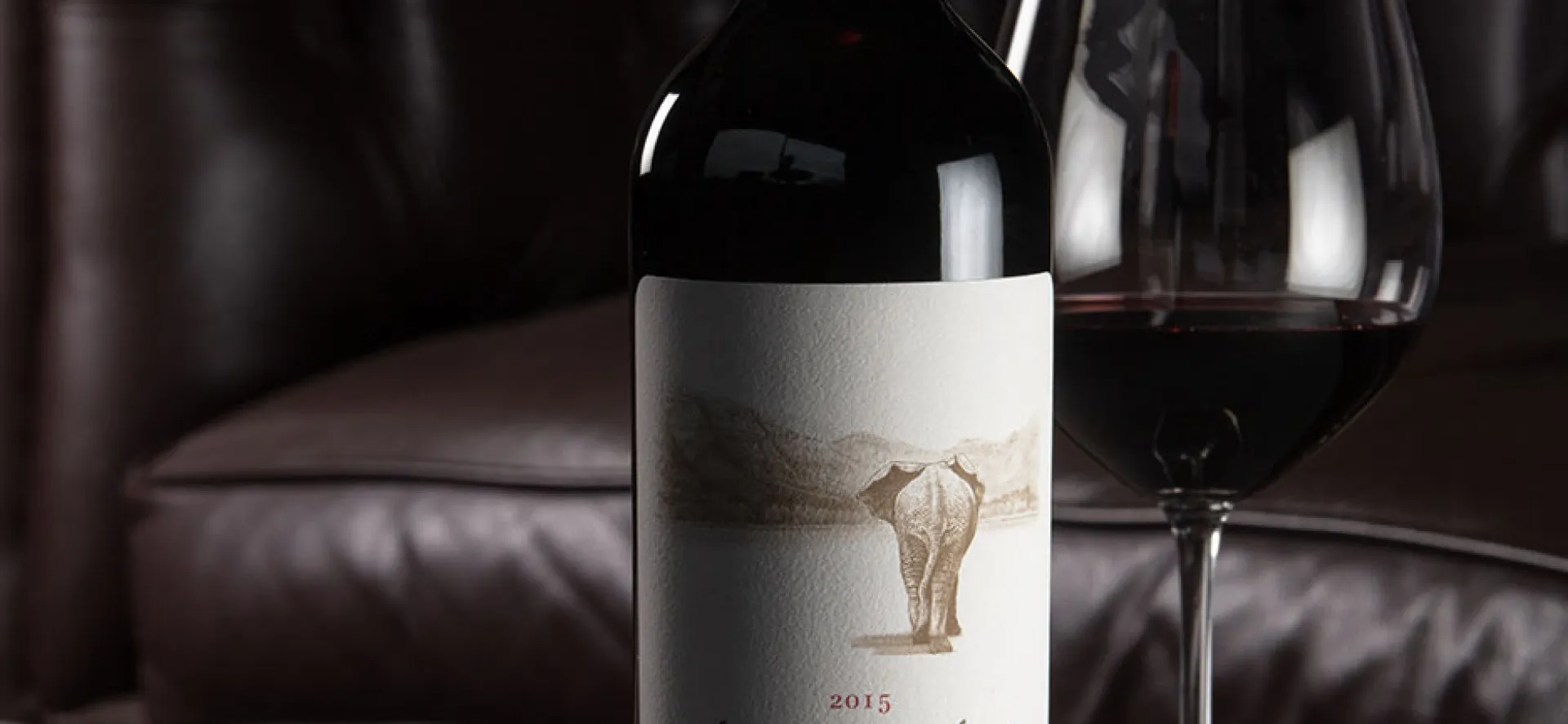 Introducing The Last Elephant - a true legend in the making
Franschhoek Cellar recently added a new top-tier offering to their extensive wine portfolio, which has already captured the imagination of the wine lovers and is set to become one of the most sought-after wines from the Franschhoek Valley.
The Last Elephant recalls the history of Franschhoek and the herds of elephant that roamed the valley and the surrounding mountains centuries ago, explaining its former name of Oliphants Hoek. The first mountain pass out of Franschhoek toward Villiersdorp was built on an old elephant trail that carried these majestic creatures between their summer and winter pastures. To this day, the Franschhoek Valley holds elephants dear, with the town's flag having an elephant at its centre.
This magnificent wine pays homage to The Last Elephant seen leaving the valley late in the 19th century. It is an exclusive Bordeaux-style blend made in limited quantities and selected from the winery's finest yearly batches. Like the animal it is named after, the wine is both powerful and elegant, demonstrated by its polished fruit, evident yet supple tannins with a sophisticated palate and a well-integrated modern finish.
Meticulous care and attention is lavished on the wine from its beginnings in the vineyard to the ultimate bottle. The grapes are grown in a vineyard located high on the slopes of Schapenberg. It is relatively sheltered from the prevailing breezes coming off False Bay and therefore enjoys a slightly warmer but still predominantly maritime climate. The vineyard's unique terroir ensures full ripening of the fruit without excessively high sugar levels.
In the cellar, the wine received the sort of focus and patience reserved only for a select few super premium wines. This included a post-fermentation maceration of 35 days, followed by malolactic fermentation in stainless steel. On completion of the malolactic fermentation, the wine was racked into 100% new French oak. The wine was then matured in oak for 22 months, followed by 24 months in bottle before release.
The result is a complex, evocative wine with exceptional ageabililty. The nose is inviting, with blackcurrants, red cherries, cedar wood, lead pencil and cigar box aromas. These develop in the glass and are joined by raspberry, black cherry, spice and a hint of gaminess on the palate. It pairs well with rich, full-bodied dishes like lamb shank, smoked duck and beef bourguignon.
A limited release of The Last Elephant has now been made available for public purchase just in time for the festive season. This collector's item comes in a beautiful three-bottle pack and is the ideal choice for a unique gift this Christmas. For orders and more information:
http://shop.franschhoekcellar.co.za/